Overview
Traditionally the medium of choice for photographers that wanted the best printed reproduction of their work. Originally, printing an image was a chemical process but today's ink-jet printing technology has largely replaced chemical printing. It provides better quality on a much larger selection of paper types with the bonus of a longer lifetime.  Typically, over 100 years.
Papers
We offer two grades of Paper: Premium and Exhibition.
Exhibition Papers are the highest quality paper available. We source these papers from Hahnemuhle in Germany and Canson in France.  Both these companies have been in business for around 500 years. They have no Optical Brighteners (OBA's) with 100+ years of  life expectancy when used with pigment inks, which of course we use.
These papers are available in:
Matte Paper (Textured and Smooth)
Luster Paper (typically a Baryta type paper)
Metal Paper (a gloss type paper with a Metalic sheen)
Our Master Printer will make a recommendation based on the image.
Premium Papers are of excellent quality, but the Luster and Gloss papers may use OBA's for maximum dynamic range.  However, they are significantly less expensive and of better quality then you would get from large commercial printers.
Printers
Our printers are the finest professional Canon ink-jet printers available.  We have up to 60" printers using Pigment (not die) Inks. We chose Canon over Epson because we wanted 12-Ink printers, the largest number of Inks available, and they are only made by Canon.  Of course, we use only genuine Canon Inks.
ICC Profiles
While the ICC Profiles supplied by the Paper Manufactures for the specified printer are generally OK, they are not created on the printer actually being used.  Printers are very complicated mechanical devices with varying manufacturing and ware tolerances. The only way to be sure you are maximizing print quality is to generate your own ICC Profiles on the printer and paper being used.  We use the professional X-Rite i1Pro2 Spectrometer to create our own custom ICC Profiles.  These profiles are available to our customers who want to "soft proof" their images before sending them to us for printing.
Printing Process
All prints, from 4×6 inches to 6×10 feet, get individual attention.  They are all color corrected and optimized by our Master Printer for the size they will be printed. None of them are automatically processed and printed. He looks at each one and provide the corrections necessary to optimize the print.  If we have questions or concerns, we will contact you before we print. If necessary, we will print a sample for your approval at no cost to you.
Print Mounting
Though custom mounting and framing is available we typically offer our Fine Art Paper Prints as:
Loose Prints: Printed on specified paper with no mounting. Loose Print Samples are available at discounted prices.
Mounted Prints: Mounted to Sintra Board and can be any size, but not larger than 24×36.
Sintra Board is normally used as it is a hard plastic type of board that won't dent like the lighter Gator or Foam boards.
Sample Sizing and Prices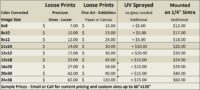 Custom sizes are available for Loose Prints and Mounted Prints.
Ordering and Payments
Currently we support orders by phone or email.
Please see our Payment Page for the payment types we accept.
Upload Images