Overview
Our Company started out printing on Canvas. We love the texture and image quality and the medium allows us to make prints as large as 6 feet by 10 feet with no external frame or glass needed. We believe for portraits, wedding pictures, animals, landscapes and photos with lots of textures, Canvas is the best choice.
Papers
We use the finest Canvas available from such Manufactures such as
We prefer to offer OBA (Optical Brighteners) Free Canvas to avoid any long term "yellowing". These papers are archival certified for 100+ years. Unless a specific canvas is specifically requested, we offer a heavy Matte Canvas for Portraits and a heavy semi-gloss Canvas for Landscapes and Animals.
UV and Protecting Spray
Since we do not recommend putting a Canvas print behind glass, all our canvases are UV Sprayed with a special polymer coating.  After printing, the image is typically left to dry for 24 hours. Multiple coats are applied by hand using a HVLP spraying system where the thickness of the spraying coat can be controlled. The print is further left to dry before it is mounted.
Printers
Our printers are the finest professional Canon ink-jet printers available.  We have 24", 44" and 60" printers using the latest Canon Print heads and Inks. We chose Canon over Epson because we wanted 12-Ink printers, the largest number of Inks available, and they are only made by Canon.  Of course we use only genuine Canon Inks.
ICC Profiles
While the ICC Profiles supplied by the Paper Manufactures for the specified printer are generally OK, they are not created on the printer actually being used.  Printers are very complicated mechanical devices with varying manufacturing and ware tolerances. The only way to be sure you are maximizing print quality is to generate your own ICC Profiles on the printer and paper being used.  We use the professional X-Rite i1Pro2 Spectrometer to create our own custom ICC Profiles.  These profiles are available to our customers who want to "soft proof" their images before sending them to us for printing.
Printing Process
All prints, from 8×10 inches to 6×10 feet, get individual attention.  They are all color corrected and optimized and for the size they will be printed. None of them are automatically processed and printed. We look at each one and provide the corrections necessary to optimize the print.  If we have questions or concerns, we will contact you before we print.
Canvas Print Mounting
Though custom mounting and framing is available we typically offer our Canvas Prints as:
Loose Prints: Printed and UV Sprayed on specified Canvas with no mounting. Delivered rolled. Loose Print Samples are available at discounted prices.
Mounted Prints: Mounted on 1/8" or ¼" Sintra Board and can be any size, but not larger than 24×36. They are typically put into frames without glass.
Gallery Wrapped Prints:  Are stretched on specially ordered stretcher bar stock that we cut to size and assembled into frames.  They are ¾", 1.5" or 2" in thickness depending on the size of the print or as specified by the customer. The joints are v-nailed, glued and for the larger sizes – screwed together.  Each frame is custom built for the image. After the imaged is stretched and stapled onto the frame, a finishing tape I applied to the back to hide the staples and create a clean look.  A coated copper wire is attached to the frame for easy hanging.

Note: we don't charge any additional to stretch or mirror the sides of the image, thus the full image specified by the customer is on the front of the canvas gallery wrap with no clipping.
Sample Sizing and Prices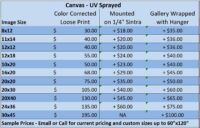 Custom sizes are available.
Ordering and Payment
Currently we support orders by phone or email.
Please see our Payment Page for the payment types we accept.
Upload Images