Overview
Metal Prints are created by using an advanced dye sublimation process and require special Printers, Ink, Paper and a Heat Press.  We print at 1/2 speed on premium, transfer paper to attain the highest resolution and finest gradations possible. The Ink is very special as it has to vaporize at high temperatures and pressure.  Though we purchase the highest quality Ink system available for Metal Printing. We print on heavy transfer paper for stability and maximum ink density transfers.
Heat Transfer to Metal
After printing, the image is pressed under high temperature and pressure onto premium aluminum blanks coated with a white gloss receptive layer. We use the thickest aluminum blanks available. Since this is a two-step process, printing then transferring (i.e. sublimation), color shifts can occur. While most labs would simply ignore or be unaware of the shift that can result in a green tint over the entire image – especially apparent with black & white photos. We undertook the arduous and expensive task of generating color offsets to compensate for these non-linear color shifts.
Even with that effort, it should be noted that matching metal prints to paper prints will not yield exact color matches. The Metal sublimation process creates dynamic, saturated colors but they are not as accurate as paper or canvas prints. Furthermore, because producing Metal prints is a two-step process (print then transfer), fine detail in textures are often lost.
Metal Print Mounting
For hanging your metal print, we offer a floating mount. It is a 1/2″ thick solid mounting block, no foam core.  It is permanently attached to the back of the Metal Print and comes with 3M Command Strips or a screw slot for easy and stable wall mounting. Prints larger then 12×15 have a metal wall mount with screw slots.
Sample Sizing and Prices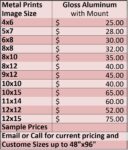 We currently offer Metal Prints in any size up to 48×96.  Collage Metals, multiple Metal prints put together to create a wall collage, are available where each metal print can be a custom size. Each individual image is priced separately.
Ordering and Payment
Currently we support orders by phone or email.
Please see our Payment Page for the payment types we accept. For Metal prints larger then 12″ x 15″ we require a 50% deposit at time of order, the balance when delivered.
Upload Images